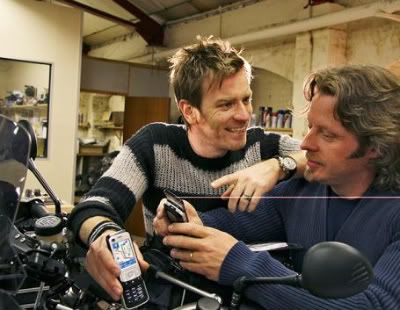 James and I just started watching
Long Way Round
, this BBC travel documentary where Ewan McGregor and his best friend Charley Boorman (co-stars from
The Serpent's Kiss
) take a motorcycle trip from the UK, through Eastern Europe and Russia, fly across the Bering Strait and continue through America to New York. He has already seen it before, but I've only seen their second endeavor,
Long Way Down
, which I loved. And now I'm loving this one too. They run into the strangest people. I think it's in the second episode when they're in the coal mine town and have a very interesting experience with the locals. And Ewan plays an acoustic cover of "Running to Stand Still", which is awesome.
It's hard not to notice while I'm watching the show that Ewan eerily reminds me of someone I spent some time with this summer. James refuses to believe me. But then he doesn't know the guy, so I'll trust myself on this one.
On another note, I made a delicious hearty chicken soup from scratch the other night and I am sad we ate it so quickly. It was probably the best thing I've ever cooked.