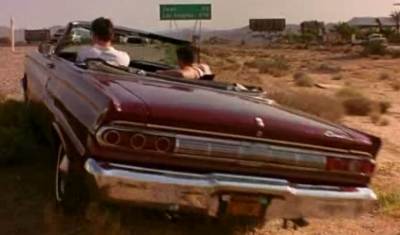 This is the car I want for my future road trip to Las Vegas with Maggie. Although I'd like to think we'd gamble at a more exciting casino than the one Trent picks for their night there.
In related thoughts, I've been wondering a lot lately about subculture -
Swingers
is set in the mid-nineties obsession with lounge and swing. Not long before that, the Stray Cats had brought rockabilly back to the mainstream, and not long after Brian Setzer united rockabilly and swing subcultures. Sarah mentioned that she had stumbled across some rockabilly compilations, and I am dying for such a thing. If anyone can point me in the direction of the nearest greaser gang, I would appreciate it.
All this means for me is that I want pencil skirts and seamed stockings, and perhaps somebody to teach me how to pull off fire engine red lipstick.