This morning after Boxing Day breakfast with some very dear family friends, I got dragged to Woodcliffe Lake so that my older sister could pick out a dress for her first New Year's Eve plans in five years. She has been hostessing and waitressing ever since she got out of high school, so this is a big deal for her. I don't begrudge her for the trip; I have just been having a lot of unbearable migraines lately, and today happens to be one of those lovely days. Anyway, we went to
White House Black Market
, where my cousin David works, and she tried on at least six dresses, to no avail. She originally had her heart set on this adorable black sweetheart strapless dress that is no longer on the website, but decided it was too Madonna for her. I tried it on and loved it, but the 4 was too big, and they had no 2 in stock anymore, which really disappointed me. Not that I needed to buy a cocktail dress. I cannot legally drink cocktails, nor do I have anywhere to wear such a thing, considering that for the bulk of the year I live among hippies who consider me dressed up 24/7 because my favorite boots all have heels. But anyway, we tried to get her to buy
this one
, but she wasn't having any of it.
After the failed dress-buying attempt, we browsed around the post-Christmas sales at the Gap, Victoria's Secret, Banana Republic, and Anthropologie. The Gap, which for some reason used to be my favorite store, was so disorganized and all the women's clothes had ruffles in odd places. As David described it, everything was so sterile and uninteresting. I usually buy basic sweaters and things there, but even those made me yawn. At Banana everything on sale was marked down an additional 20%, making for saving of up to 70%. Needless to say, I scoured the store for sweaters for James, but they only had two men's sweaters in the whole place, and they were both cardigans, which I know he would never wear. Too much of the women's stuff was made out of satin and/or had bizarrely unflattering necklines. This all made my migraine much worse. Thankfully, I stumbled upon these two beauties, which I clearly could not turn down: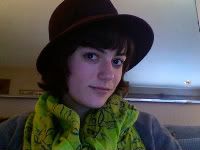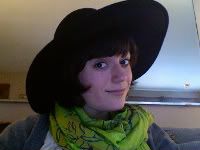 The first one makes me feels very 1930's, and the second just reminds me of
Annie Hall
. I am pretty much in love with the both of them. Thusly, I declare today a successful shopping day. Now, if only the headache would subside. I have a fondue date with my friend Sarah. She leaves for Israel on Sunday, and after that, she's spending her spring semester in Mexico. I'm jealous - if I never make it abroad, or even south of the border, I plan on donning the first hat and reenacting scenes from
Casablanca
to comfort myself. Then I can at least pretend that I'll always have Paris.