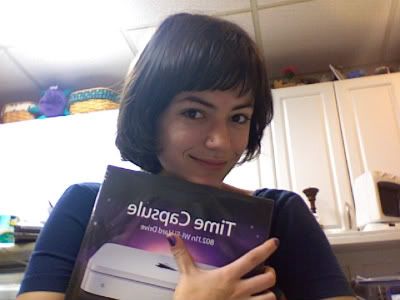 Never again will I find myself retyping an entire manuscript on library computers again. Not with this beauty. Wireless updating, 500 GB of space. I am set for quite a long time. And thank god.
This Christmas was absolutely lovely: everyone was just happy to spend time together, the food was delicious, and all the gifts were incredibly thoughtful. My sisters got me poetry books (something my personal library is sorely lacking in), cool jewelry, and my first new band t-shirt in awhile. My mom picked up on my recent old lady life and got me a knitting book and a gift card to the yarn store up by school, a strange and beautiful lamp, chili bowls, and a pale yellow frying pan the perfect size for bacon, among wonderful ornaments, one of the books from my list, and lots of love. And my dad is responsible for the Time Capsule and Christmas breakfast at the diner after midnight mass. I know that there have been years with bigger, more serious presents, or a great number of boxes under the tree, but I love this year the best, because everything was carefully selected and useful. I was reading an article about recession holiday shopping that Nubby Twiglet posted a link to the other day, and the writer drew attention to the fact that people are shopping for gifts they know are necessities - and while it is a considerable alteration in the way we consume, I think it's a positive one. Maybe not for retailers, but in terms of being smarter about spending money, buying gifts that are less likely to be re-gifted is a far more conscientious thing than handing out gift cards willy nilly. I for one am a fan of this. I think I'm in a place now where my family knows me well, and they have become very good at finding perfect presents as a result.
And even without the gifts, the time we spent together was fantastic. We all told stories and discussed movies, recommended different alcohols to each other, made plans to see each other again, and laughed so much that my abs are still recovering.
I'll post pictures over the next few days of some of the great things I got to unwrap the other day; I just didn't want to overwhelm anybody with a huge picture post. And James is coming down in a few days, so I'll be able to post pictures of the very secret gifts I made for him then. Now it's off to breakfast with Sarah, Galen, and Caitlin. Last night Sarah, Caitlin and I watch the Nick Cage version of
The Wicker Man
, one of the best bad movies I have ever known. It was delightful. I guess that's been the overwhelming emotion of the past few days. I hope it continues.