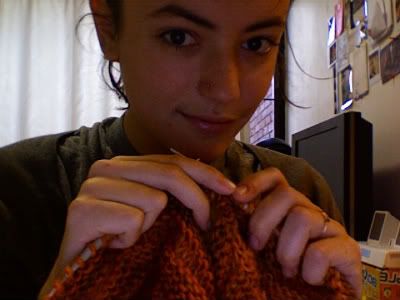 I have been knitting on and off since the age of nine, and crocheting for nearly as long. But somehow, I manage to avoid noticing
Webs
, an amazing Yarn store in Northampton. My friend is a manager there, and yesterday I made my first visit and fell in love, especially when she showed me the warehouse portion of the store, where everything is always at least 50% off. My favorite part was the reject aisle, because closeout prices on things with mohair and cashmere and merino in them is too exciting for words.
I ended up buying four balls of Mondial Oggi yarn in this beautiful rust color. It is so so so soft (probably because it's 40% mohair, 40% acrylic, 20% merino wool) and as soon as I got back to campus yesterday I started in on my first knitting project in a really long time. At the rate I went, I think it would be plausible for me to open an Etsy store. I am binding off now, three balls later. Knitting makes me feel endlessly accomplished.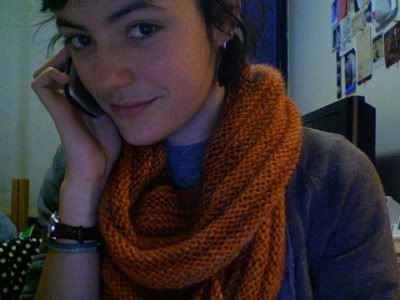 And now, I will do laundry and rearrange my furniture and curse the day I adopted my messy habit of just tossing things on the floor when I get distracted. Also, I'm beginning to think that
Between the Acts
is my my favorite Woolf, but then I think that every time I read another of her books.