I found the cure to laziness: caffeine. Obviously. Forehead-smacking moment. I have about four cups of it in my body right now. It's pretty wonderful. I forgot how well I am affected by stimulants.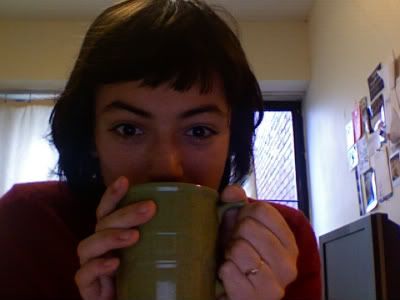 So now I finally have the energy and motivation to do a proper update. We'll work chronologically.
James and I drove to Connecticut on Wednesday afternoon, and my sister picked me up at his dad's house on her way to New Jersey from Providence. (I know it's complicated, but really the simplest way for me to get from point A to point B without being too much of a burden to anybody.) In between those two events, James' parents got very excited that I was in Redding because they thought they had been surprised with an extra Thanksgiving guest. I had to break their hearts with the bad nes that my own family needed me. Then I jumped on 95 again and sat in awful traffic on the Tappan Zee Bridge for far too long, eventually arriving in Harrington Park to baked macaroni and cheese and my very excited family. My brother was so thrilled to see me, it almost broke my heart. (He's only 11, and I'm pretty sure that he is my fraternal twin delayed by eight years...he got lost somewhere along the way and is now trying to catch up to where I am.) After some catching up, I went to visit with Maggie and her family, and then we went to a basement hang-out session where we rapped all of "Gimme The Loot" by Notorious B.I.G. flawlessly and thoroughly astonished people.
And then there was Thanksgiving. I will let this picture speak for that: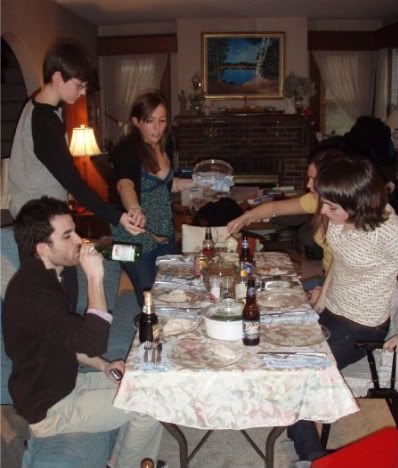 Still sitting at the kid's table (because there are just too many of us), but now everyone but my brother has a beer in hand. The food was delicious, the time with my cousins and aunts and uncles was much-needed. And then later on, my sisters forced me to watch
Mamma Mia!
, which I thought I would be able to avoid because it hasn't come out on DVD yet, but somehow they found it online. So there was that. We had a sister cuddle pile in my parents' bed where I was staying since my mom now lives in my room while I'm at school (too complicated to discuss here and now) and my dad was in North Carolina for the week (also to complicated to explain). I was trying to read
The New Annotated Dracula
but some things are more important I guess.
Friday morning, I bought a new pair of boots at Marshall's, and then I took my brother out to lunch. Friday night Maggie and I went to another party with our friend Joey (who happens to randomly know one of James' housemates from living in Boston). And at this party,
Charades
played, a band comprised of three of our summer hang-out buddies. They were great, and I sang along to every word, dancing the whole time, the only sober person in the room because I was leaving the next morning. Wonderful regardless.
Saturday morning my mom drove me back to Redding, and after that, James and I got back to school (back home, if you will) and made ourselves a second Thanksgiving with all the leftovers his dad sent back with him. He had made the gravy as his contribution to the family meal, and it was definitely the most delicious part.
I think that's all I have the license to drag you through for now. We can talk about the force of nature that is Adam Faulkner, or perhaps the poetry of A. A. Milne at some other, more convenient time. For now, I have clean laundry to put away.