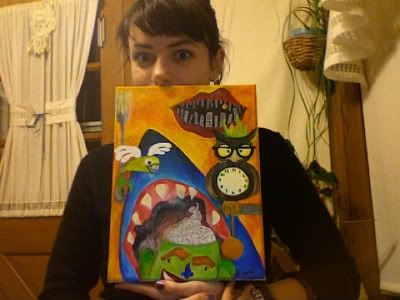 So there you have it, that's the painting I had been slaving away at for James' Christmas present. I can finally post it because we exchanged gifts the other day. He always loved the vintage pint glasses I managed to pull together, and the coffee mug, and the crocheted Totoro. I'll post pictures of that little guy later. He is either really cute, or really terrifying. And as for what I received, James customized a Game Cube for me so that it is the colors of a sunset, and with that he gave me Paper Mario (my favorite Mario game by far) and Harvest Moon, probably my favorite game of all time. Also, there was a DVD copy of the skulls, one of the best worst movies. I love it. I was/am so happy. I think we were both pretty creative in these dire economic times.
Anyway, since James has been here, I feel so much better about being home. He makes everything much more comfortable. We spent Sunday night with Maggie and Sherry playing pool and air hockey in their extensive basement, talking about Bob Dylan and Dead Heads, enjoying ourselves immensely. Everything always feels right at their house, but it felt even more right this time. He's the missing puzzle piece.
Last night we tried to watch
I'm Not There
with my dad, but everyone in my house seemed dead set on interrupting us at every turn. My sister Kaitlin kept wandering in and out of the room, each time with a new problem. And even though we teased her about it, she still didn't realize how annoying she was being. I love her, and everybody in my family, but sometimes I get a little overwhelmed by them. I'm going to have to watch the movie again soon, just so that I can actually pay attention to it. But from what I did catch, it was beautiful.