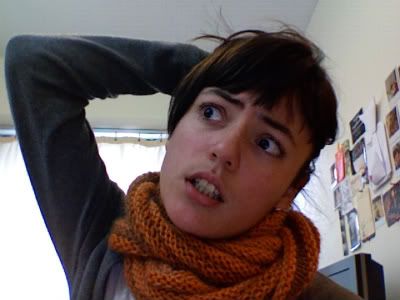 Ready to tear out my hair from the pressure of it, and I only have two final portfolios to do. They'll probably take about 1 day of work combined. Somehow, I am still worried. I baffle me.
I welded myself a coat rack last night, and I promise to post a picture later on, because I am proud that I finally used my skills for something practical after all of the strange intuitive art objects I have been churning out for the semester. My professor told me that I am welcome back anytime I want to do some work next semester, which I am very excited about. I thought I was going to have to leave behind my metal-working days, but apparently they are only beginning. Maybe soon I will figure out what to do with that trio of rusty garage door springs.
In other news, I feel like shit today and am trying to ignore that fact and get my things done. However, I have procrastinated on my reading for class today, and it doesn't look like it'll get done. So much for attempting. I need Christmas break quite badly, but I need Jan-Term even more, just so that I have a change. Class every day for two and a half weeks, 10 AM to 12, then 2:30 PM to 4. It will be a very full day, in addition to rehearsals and shooting for Evan's movie, but I am looking forward to it immensely. I really thrive off of being busy. That's why this semester has dragged; I was only taking two academic classes. I should have known better. I should have signed up for some other time-filler that would have given me further credit towards graduating early. I will make it happen. This is one of my only goals. I must stick to it.