I procrastinate. It's just in me. But when I get going on something, it is difficult to stop me. Take tonight for instance.
Caroline Harvey
's feature blew my mind like it hasn't be blown since the first time I saw James Caroline perform. I wrote half a new poem during the feature, drove around with Sam after the diner for at least two hours, and then I came home with two other poems in my head. So I wrote them. And then a third. And then I decided it was time for a chapbook.
Now, I have been talking about such things since last fall when I first started writing poetry seriously. Maggie tells me that if I get famous one day, I will have a more heavily recorded life than
Buckminster Fuller
on the day that I die, and she's probably right. I journal every day without fail. Sam reminded me tonight that as the most prolific poet he knows, I had the material for a whole library of chapbooks, and that it would be best to get underway before it became too difficult to start. And so I did, because tonight (of all nights) I have adopted some of James' recent insomnia. My brain is too full for me to stop.
Here it is, in all its glory: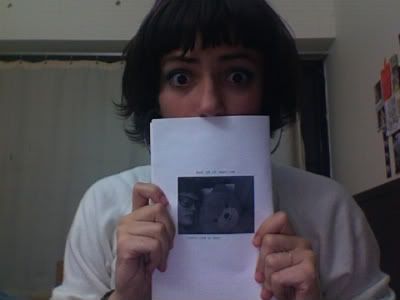 It's called
Welcome To My Bed
, after this old blog, because Grace always used to tease me last year that if I ever had a chapbook, it would be called that. I adopted the insult and made it my own, which makes me proud. If you look closely, you can see that the cover photo is the header photo (a little different) from the top of this page. Oddly enough, I don't think I've ever posted any of the poems in it here. Anyway, table of contents:
Someone Else's Driveway
Crystal Methadone
Kentucky
Mermaid
Drive Me Home
Tight Jeans
Bali Shag
Quiet All Talk
Epilogue (or, Someone Else's Driveway Pt. II)
Most of the poems were slammed at various locations over the course of last year. I know for a fact that most people in New England have heard Someone Else's Driveway and got sick of hearing it, because it was the one piece I had that was almost guaranteed to score well no matter where I was competing. Epilogue is a bookend for it, a little closure for the thought I started in writing the first piece at all. And the rest have their own stories.
James always says that it's impossible for me to write anything that doesn't come from a place of love, and I think that this book contains the poems that made me realize that. Next project, making more than ten copies of this thing. I desktop published using Word and my now-sleepy Canon Pixma, so I had to limit myself. After I make more copies, I will assemble my next effort, which was actually in the works since before this one, entitled
Name Without a Place
, which is mostly comprised of pieces from last spring through this summer and early fall, although the mental line-up I have for it changes almost daily, especially with all the new stuff I wrote today.
I don't know how I'm ever going to get to bed. I cannot wind down from this day.