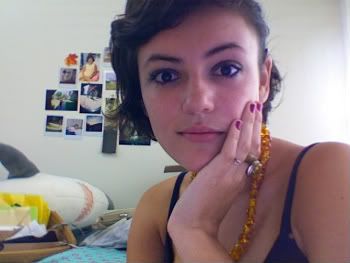 In spite of my eyes still being slightly bloodshot and my neck hurting every so slightly, I'm pretty sure that all that bullshit of being sick for nearly a week has subsided. It took long enough. But thank god it's over with the day I have a slam. I need to be in top form tonight.
Today is the last of September, and I am spending it cleaning my room and getting fancy. Some days, things looking good just makes everything feel like it fits better.
Last night I went to my first poetry workshop of the season, and in spite of my still-feverish delirium, I really enjoyed myself. he poem I brought was one written from a moment of intense disappointment that subsided as soon as I got it all out on paper. It has been impossible to edit for me, simply because I can't even access the part of me that had those feelings. Talking it out with other people was really helpful. And call me lame, but I love being around other poets. People my own age forcing me to be awestruck is one of the best feeling, or at least one of my favorite feelings.
In honor of today being the last day, I am going to go through my list of fall essentials and repost the ones I have yet to accomplish to their fullest potential.
-Ryan Adams's
Love is Hell
on vinyl.
- NYC
-photoquests when the leaves change
-new tattoo
-Hampshire Halloween
I am proud that most of my to do lists get well taken care of. But these last few need some serious attention. I have to start thinking about my Halloween costume, I have to start my application to the creative writing program (although it would help if I knew where to find an application), I have to finish cleaning my room.
Enough talk, more action would be much appreciated. I want a hotel room and some bad ideas.
Also, I quit smoking!