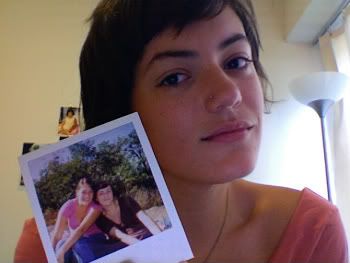 Yesterday, my sister came up from Providence to celebrate my birthday a little earlier than we should have (t-minus one day and counting now!), and we climbed Bare Mountain, which I'm pretty sure is one of the tallest mountains around here. My legs are still sore today, owing mostly to the fact that mountain-climbing is not an every day activity for me. But I feel amazing. We had such a good time scaling rocks and laughing at the odd people we met on the trail. James came along as well, and the tree of us had a picnic lunch of peanut noodles at the summit, looking out over the whole Pioneer Valley. When I get my first roll of film from my new/old Olympus developed, I'll find a way to scan everything so that it'll be more clear how high up we were.
Post-mountain, Kaitlin and I went shopping, and saw many many horrific things in the process, including a blouse that looked like it had teeth. Dinner at Amherst Brewing Company, for the burgers that taste like fall. I felt left out, being the only one unable to drink. It's so odd to me that James is equidistant in age from myself and my sister, but I only really felt the weirdness of it when they were talking about
The X-Files
while we were walking through a corn field on the way back from the mountain. I was hardly ever allowed to watch
The X-Files
when I was little, and I never saw the first movie; Kaitlin and James were both obsessed. Two years matters so much more when you're little.
After burning Kaitlin the first car mix she's gotten from me in awhile, I dispatched her to her cats before she got a parking ticket, and then headed over to James's house to get silly. I drank my forty quietly and watched the first to episodes of
Upstaged!
, a show about theater and the weird people involved with it that James and our friend Evan made last year. I have a very small role. This year, Evan wrote me in as a butch lesbian, a role he thought I could do in my sleep, especially because when he last saw me, my hair was probably about an inch long. Imagine his surprise when I returned to school this fall looking like a girl again. We can make it work though, I'm sure of it. Anyway, James and Evan's housemate Micah was watching the show with his friend Dan ("Man Beast"), and Evan and James decided to do live director commentary while we were all shit-faced. It was the best way I could think of to end a very full and fulfilling day.
As I expected to, I slept so well last night. But really, I cannot wait for more birthday festivities. Entering my twentieth year, also know as turning nineteen, has already yielded me two season's of
Dawson's Creek
, a new journal, the promise of dinner at Olive Garden, and so much more. One of the many reasons why I adore fall.