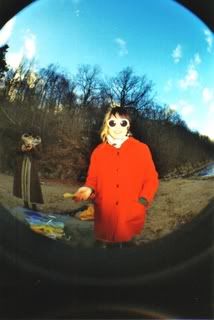 It hasn't been time for a list in awhile. But now is definitely the time. The leaves are starting to change. It is below forty degrees outside. I am sitting at the reference desk in the library waiting for someone to ask me about something. They won't. So let's enumerate the things I deem integral to the passage of the coming months.
1 - Movies that feel like fall.
2 - Ryan Adams'
Love is Hell
on vinyl.
It is impossible to find. There are only rumblings of it on the internets at large. I am very distraught. I want this album, I need this album. With the highest quality sound available. I ran my mp3's of it into the ground this summer, which is not even possible. But if it was, it would've happened.
3 - Dawson's Creek.
I don't care what anyone says. My sister just sent me season four for my birthday, and I could not be more excited to watch twenty-somethings pretend they are in high school. Yessss.
4 - Mountain climbs.
5 - NYC.
I miss Maggie, and she is all the way in Brooklyn. Plus New York in the fall is my favorite, hands down. Yes, I know I live in New England and we supposedly have the best foliage ever. But to me, there's nothing like a brisk walk down Bowery when it gets frosty out. Or a sidewalk table at Virage for french sandwiches and delicious conversation.
6 - 40s of Miller High Life.
Champagne of beers. Duh.
7 - Spliffs.
8 - Writing as much as humanly possible.
9 - That burger with apple chutney at Amherst Brewing Company.
10 - Photoquests when the leaves start changing.
11 - Bicycling at night.
The wind toothing its way through even my heaviest jacket does not deter me from loving every second of the ride to and from James's house.
12 - Sex. Obviously.
13 - Reading more than my brain can handle.
14 - Tins of Bali Shag.
15 - Free piercing at Lucky's for my birthday.
16 - New tattoo.
Depending on the money situation, this one may or may not make the cut. But I am keeping my fingers crossed. I am trying to be diabolical and am hoping to save the fifty dollars my grandparents gave me for my birthday to go towards one. Because I know how against it they are. And they never have to know what their money was spent on. But I'll know. And I'll smile about it all the time.
17 - Strong coffee, chai tea.
18 - Sending and receiving snail mail.
19 - Hampshire Halloween!!
20 - Making awful choices about the things I put into my body.
Save for the multi-vitamin and fish oil I take on a daily basis, the semester so far has been nothing but bad times for my body. Ramen, various illegal substances, among other things. But mostly I just haven't been eating very much at all. The reason this is an essential, is that the food in the dining hall here is nigh inedible. Being on the full meal plan without a kitchen at my disposal is situation very different from what I got used to last semester. That is to say, deciding when I ate and what I ate. Which made me want to eat. The dining hall is a fate worse than death. So I will stick to my Trader Joe's microwaveable noodle boxes and sesame crackers in the middle of the night. I am sure I can survive the winter this way. Absolutely sure.