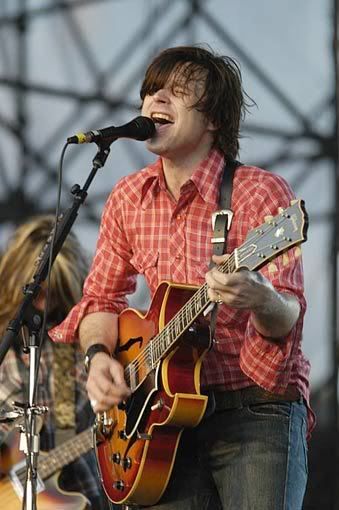 Ryan Adams and I have a date on the 7th.
Not literally (of course), because I am hopelessly devoted to another. However, the two men in my life will both be present on this joyous occasion. James and I are going to the concert together in Boston (our first musical event), and Ryan will be there to serenade us with the Cardinals. It really is fitting, because our song is Ryan Adams' "Hotel Chelsea Nights". I haven't been to a concert in quite some time, probably since I saw X back in June. I am very excited. Even though I have class at 8:30 the next morning. The things I do for love.
Also concerning Ryan Adams, his
blog
that had been defunct for some time, is suddenly back in action. I hadn't realized. But now that I know, it's back in my links section.
He is publishing a book soon. I don't know how soon, just that it has a tentative title, or something like that.
I am obsessed, but I am not ashamed.
And even if you don't like the guy, you have to give him credit. I mean, his cover of "Wonerwall" off of
Love is Hell
got those cocksuckers from Oasis to admit that somebody is capable of doing things better than they can.