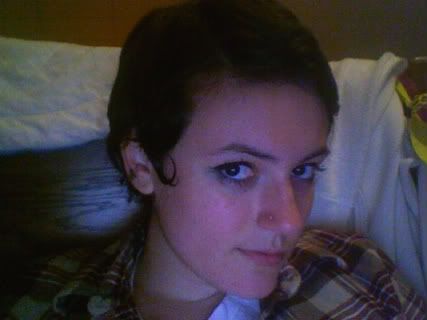 Finger waves and a flannel shirt...yes, I am that classy. Before I was dressed up like a World War II USO girl, and I felt the heavy hairstyling to be apropos for the outfit. Maggie was having an art show where a lot of her stuff was pin-up themed, and I felt inclined to match her paintings. But mostly I just relish any chance to get dressed up. Today I went visiting some old friends in a pencil skirt and wedges. I looked very Twiggy. Fashion icons have infected my life. Maggie keeps calling me Carrie, but I never even watched Sex and the City, so there is really no explanation for all of my sudden obsession with being fashionable, especially because most days nobody really sees me.
Anyway, I guess this is leading up to a list of my fashion inspirations currently. I wish it was easier for me to think of them.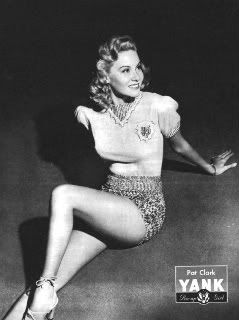 As if pin-up girls didn't have something to do with every woman's look right now. The whole high-waisted, very tailored and deliberate kind of style that we are saturated in has a lot to do with these ladies. But my own current interest in tattoo culture has a lot more to do with my love of pin-ups and the way they dressed. I guess the whole accidentally-on-purpose sexuality thing has always been a favorite aesthetic of mine as well, because I've never thought of myself as overtly sexy. Everything with a wink and smile. And killer heels never hurt. To look at.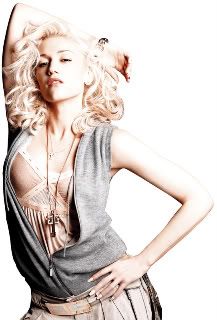 In following with the above, Gwen Stefani has always been someone who I have adored down to the very finest detail. She wears whatever she thinks looks good, and even if it is heinous, somehow it looks good on her. The way that I see it, if you can't wear the things you love, then what's the point in getting dressed at all? And she has branded that. Kudos. She has cycled through so many different looks, and I can definitely say that I own several thrift store dresses like the ones she was wearing in the mid-nineties, and that I wanted to dye my hair pink for what seems like to long a period of time in hindsight. To me, she can do very little wrong.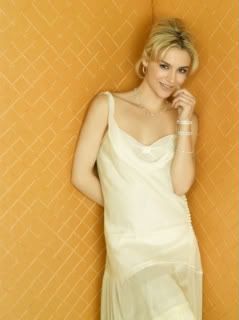 And a departure of sorts, Samaire Armstrong. I love love love her. When I watched the OC in high school ( the first season anyway), she was the real reason. Adam Brody was awkward and adorable, and sometimes I dress like him too, but her clothes were fantastic then, and they are fantastic now. I started cutting my own hair because she said she only cut her own hair in an interview I read once. Before reading it I had never thought anyone would do such a thing. I love her as an actress, but the way she dresses just makes me happy. It's so real. And effortless. I hope to look that way, even half as good.
Other than that, I dress myself pretty haphazardly. With bits and pieces of input from Maggie. But the vast majority of what I wear is just utterly ridiculous. Some of my favorite articles of clothing were dug out from the bottom of a large pile of clothing meant to be bought by the pound at the Garment District in Boston, or at the various thrifting locations I frequent with my hard-earned cash. So many out-dated dresses and strange sweaters. Winter is one of my favorite things ever, barring sale racks, because I love layering more than I love a cigarette before bed. I like feeling like I'm wearing someone else's history in my sleeves, letting it mingle with my own, if only for a little while.