I know I have disappeared off the face of the planet, and while I'm not going to apologize because I'm really not sorry for having the capacity to enjoy real life more than virtual life right now, I will give you a little bit of an update on the goings-on in my life currently. But a short one, because there are serious things to accomplish today.
First off, work has been incredibly hit or miss, and I still don't have as many shifts as I'd like to. One day, I'll make over $100, and then others I'll make less than thirty. And my last paycheck was somehow screwed up. I'm trying not to stress about it. I really like all of the people that I work with thus far, which is a first for me - usually there's someone I cannot deal with, but I have yet to meet that person at this job. Also, because I'm standing on a deck next to the ocean every shift from ten AM until whatever ridiculous hour of the night they send me home (usually around eight or so) my face is incredibly tan and I'm not really sure what to think of it. All I know on that front is that I am happy to not have any kind of bizarre tan lines from my polo shirt. Yet. Keeping my fingers crossed that that never happens, but we can only hope about these things.
Changing directions quickly...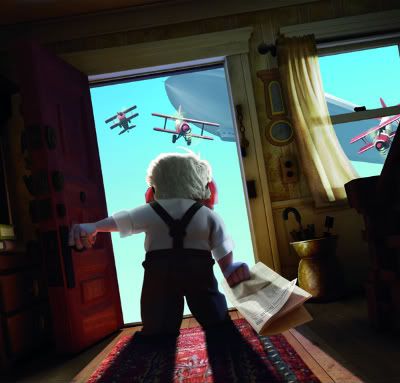 DC and I went to see UP the other night with his friend John who is visiting from Tennessee for the week (hear the band he plays guitar for
here
). I am not ashamed to say that I cried three times. It was a really fun, sweet movie, not Pixar's best, but definitely one of my favorite movies I've seen lately. Not that I've really been going to the movies much in the past few moths. Things have been too hectic to make such concrete time commitments. The following night a bunch of us went out for happy hour and then Kait invited us to meet up with her at Forbidden City on Federal Hill. None of us had ever been there, but I was excited by the prospect of walking up to a bouncer and saying "Emily + three" and getting to jump the line. Which we did, landing us in wall to wall Gotti blowouts, too-loud Lady Gaga, and some really skanky-looking go-go dancers. Kait bought me a drink and apologized for the intensity of the place (this was a Monday night, but apparently everyone there was quite alright with going to work smelling like someone else's hangover on a Tuesday), and we left soon after to head back to AS 220. I still do not know what to make of that place. An establishment with "Tea Room" in the title should not have wall-sized projection screens or even a bouncer. There should be tea. And that's it.
Yesterday I drove down to East Greenwich to have lunch with DC next store to his job and ended up hanging out with him for about three hours even though we were going to see each other at night back in Providence. We've been getting wrapped up in very serious conversations lately. Whenever I ask him what he's thinking about, he always says, "the universe", and I always tell him that it's impossible to fit the entire universe into your brain. Tonight we're going to Writer's in the Round at
Tazza
, a little show that DC plays with a few friends every first Wednesday of the month. He's been a little under the weather lately, so he might not end up doing it this time, but I gave him echinacea and vitamin C pills to try to fix the mystery sickness, and hopefully that will help. I'm missing the NorthBEAST regional slam to hang around downtown tonight, and it doesn't even really phase me. In another life, say about a month ago, I would have been devastated by my temporary lack of gas money, but lately I am loving Providence (and Rhode Island in general) far too much to leave.
Wrapping up, today's activity will be to assemble the chapbook/zine that I'm making especially for my feature at Blue State Coffee in a few weeks and begin the search for a copy shop of some sort to make such an endeavor possible. I'm going to make it have mostly Providence-specific poetry, which will hopefully make it sell well with the people who go to that reading. We shall see.
And I leave you with this - last night, someone sincerely called me sexy, and I actually believe him. I am a seriously changed person. I'm worried no one will recognize me when we're back at school in the fall, with how rapidly I feel myself changing.