I had a brutal day at work yesterday. On my feet for over nine hours straight bookended by the forty minutes it takes me to drive to and from my job. And all the other girls on shift were complaining the entire time instead of actually doing what they were supposed to be doing. They all claimed to have prior waitressing experience, but with some of them I have cause to be incredibly skeptical. A definite plus side to the debacle was being literally on the water - the only thing between the restaurant and the ocean is a skinny strip of rocks. Ocean mist and breezes in my face all day and a gorgeous view when its clear out is not a condition to complain about, but working outdoors leaves you at the mercy of the weather. Every scheduled shift hangs tenuously in the balance. I came home and seriously decompressed.
As a reward for my hard work, I went to the mall around lunch time today and tried to go shopping for summer clothes, but the retail gods were in a bad mood or something because everything was overpriced, heinous-looking, or a healthy combination of both. I bought a bunch of basic t-shirts (for some reason I had previously owned nothing of the sort) and left, disgruntled. The real reward of today has been consistently day-dreaming about the tattoos I have planning for myself over the course of the next few years. It has me all antsy for new ink. I have been dreaming of my squid with great anticipation, and I have a serious suspicion that when I commit to such a large addition, it will only end up bigger that I am currently expecting it to be. Sidebar: that anchor that I drew as a composite of several traditional anchors for my most recently accomplished tattoo is almost identical to the logo of the restaurant where I now work. It's a little ridiculous. Anyway, that anchor ended up larger than I had originally envisioned, and part of me now wishes I had gotten it even bigger. Maybe that's why I am so gung-ho about the squid, which will be tangled around and behind the anchor, large and purple and wrapping onto the space below my left shoulder blade. Insert preliminary sketch: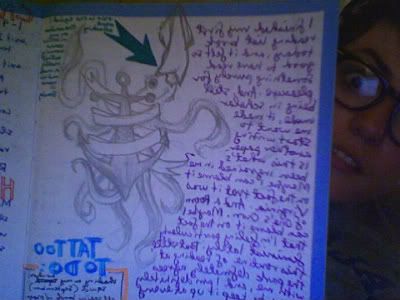 I have to tinker with it a bit, but I really like that style squid. Not too scary, but still a bit ominous. It can't happen until I get back to Amherst in the fall anyway.
During my long day of considering future ink, I dug the following drawing out of my file. I've been wanting this one for a long time, on the inside of my left arm. Momma Rabbit and her babies, Flopsy, Mopsy, Cottontail, and Peter, or in my mind, my family.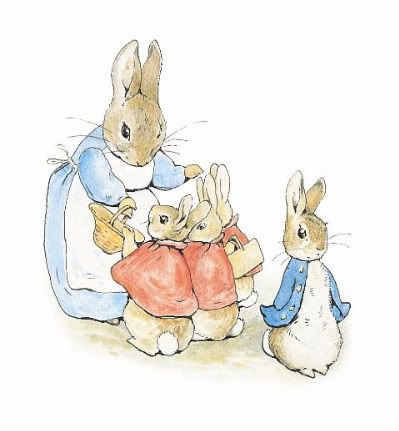 Depending on how frequently I work and how much money said working makes me, I might just get that one in August before I leave Providence, a little memento of my time here with Kait. Not that I won't be back. More and more, I am falling hard for this place. I spend many of my days alone, but I don't feel lonely in the slightest.