Good thing moving out of our mutual apartment didn't put the kibash on these shenanigans.


So we thought's we'd never told you about how we ended up friends and roommates, but apparently that story got told (in eerily similar fashion) during the Lost Un-Valentine's Day Vlog, filmed February 15th, but never before viewable by mass audience (unless you happen to hang out in the general vicinity of my laptop). In honor of our final nights in the summer tree house, we are proud to present Parts 1 & 2 of the now-infamous lost episode.






I am overwhelmed with excitement for my new place. My FIRST new place. No more couches and futons in my sister's living room, no more campus housing, no more long-winded free writes about the pros and cons of living in my car. In celebration of our impending move (a month from tomorrow!), I went shopping on my break between shifts yesterday. In light of working two back-to-back doubles this weekend, I thought it only fair to provide myself with a little TLC. Or, in this case, to acquire some preliminary kitsch for the new abode.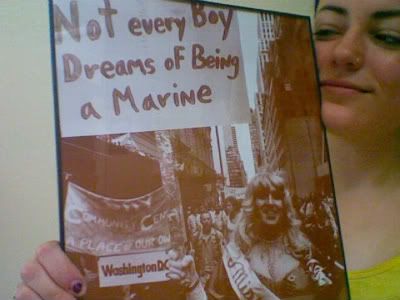 I am a huge proponent of walls covered in all sorts of magic--it shows up in nearly all of the pictures I post here that my room is decorated mostly via thumbtacks, masking tape, photos, postcards, and various collections of objects--but I have surprisingly little framed
anything
. While browsing yesterday, I came across this photo on the cheap and immediately squealed with delight (internally). The NoHo pride parade was on Saturday, so maybe that had some influence on my decision, but truly, I was thinking more of my uncle's magnet collection on his refrigerator and his framed saying over the kitchen doorway, something about the queen being in today. Speaking of which, Mother's Day with the uncles is coming up mighty fast. Can't wait for mimosas and bagels and omelets and lots of laughter. Because of this holiday, my concept of a satisfying party is one that encompasses all three meals and all varieties of sunlight (as well as all kinds of alcohol), and lots of old stories.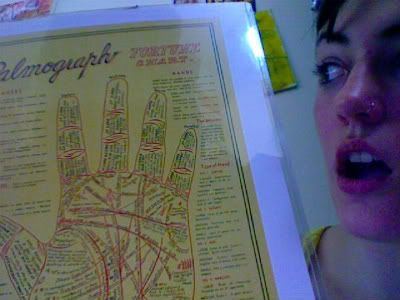 I have a quiet wish to tell fortunes at carnivals for a living. Add it to the list between hair dresser and flight attendant. So this is more for studying that anything else. I have a feeling I'm going to have a difficult time remembering all of the different meanings of broken life or heart lines, but that's what the picture's for, right? Also recently added to my arsenal of fortune teller necessities is a tarot deck that I haven't had the time to sit down and memorize. Oh summer, hurry up and get here so that I can teach myself to predict the future. Not pictured, but equally important to all of this silliness is a Ouija board Cass found at the swap shop when she was in high school. Note that this list doubles as the list of things to hide if our parents visit, just so they don't jump to conclusions about us joining a cult.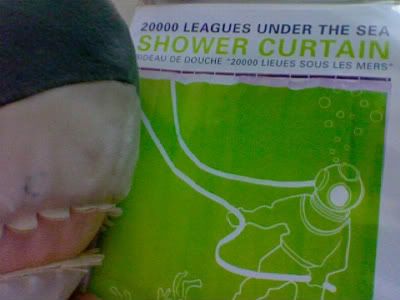 Needless to say, Grössby's favorite is the Jacques Cousteau shower curtain.
I was going to include a caution message about disregarding the foil in my hair, but it didn't make its way into any of the pictures. So. Beyond the edge of the frame in each of the preceding pictures, a portion of my hair is wrapped up in foil marinating in bleach. We'll see what happens once we kick the mohawk up a notch.
Derek
was giving me a hard time the other night about my wimpy efforts at badassery, which galvanized me in the decision for a little craziness. When one of my co-workers made a comment about how frequently my hair changes, I was reminded that it was time for another little drastic switch. No Elmer's just yet, but there has been tell of Manic Panic. I mean, it has been
over a month
. And in the words of the irritatingly catchy Sheryl Crow, "a change would do you good". Although, I much prefer her in "All I Wanna Do", simply because singing "I like a good beer buzz early in the morning" always manages to freak
somebody
out.