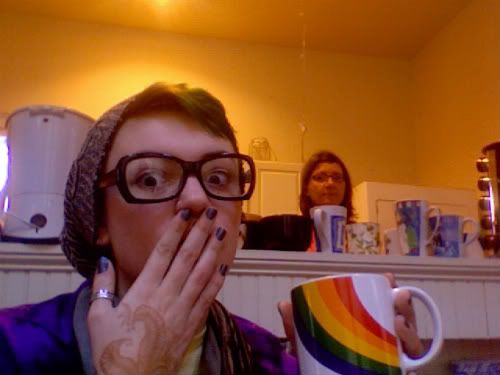 Philly slam mistress Jane Cassady has opened her lovely home to us: Mckendy is failing at tetris, Cass is in fat-cat-snuggling heaven, and Sam is awake before noon. Generally, we are out of our element, but loving the (frigid) adventure so far.
I plan on checking in at least every time we move cities. I want a picture in every kitchen we wake up to. This one has miniature cupids, a whole jar of them. And skylights. And a clock that ticks out loud. I'd like to come back here in spring sometime to sit on the terrace with sun tea and a good long novel.
Our tourist activities for the day are set to include a visit to the
Mutter Museum
(where
Cristin O'Keefe Aptowicz
is a writer in residence and has curated a cabinet--she warned us to watch out for the staggering number of rib cages on display) and then the obvious detour for those famous cheesesteaks.
If you're in town, come see us tonight for a forty minute set at
Infusion
on Germantown Ave. We have brand new TOUR EXCLUSIVE books, as well as plenty of shenanigans in store.
Road love!