I can't sleep. I haven't had to say that aloud in a long time.
So I started thinking about my hair again. It's been an obsession lately (and always). I've dyed it twice in the past two weeks, once lighter, once darker. I am satisfied with the color now, but the length is driving me nuts. Having an inch and a half of hair is difficult. With my styling options close to zero, it seems my collection of hats is growing exponentially. Not because I want to cover my hair by any means, but because I just want something interesting to be happening on my head. Oh, how I rue the day that I shaved off my mohawk! Well, not really. I've quite enjoyed this crop. But I am ready for some different extreme. These two ladies and their fabulous coifs have been spinning through my head as of late: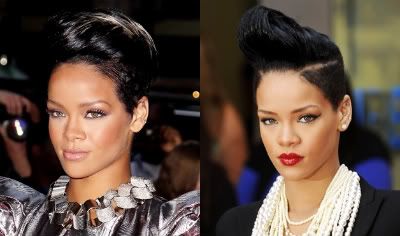 Now, Rihanna is someone that can essentially do no wrong by me. Argue her talent all you want; I'm not going to tell you what opinion to have as far as pop music goes. But for the past few years, basically ever since she cut it short, her hair has been fierce as a tiger let lose on Las Vegas. If I could have even half the pompadour she's rocking at the right of that pair of pictures, I would be beyond pleased with myself.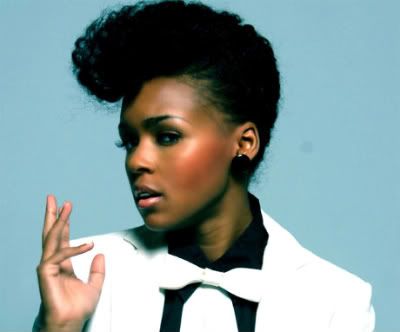 If you have not heard of
Janelle Monae
, you have been living under a boulder of epic un-coolness. This woman can sing and dance like I have not seen in years, not to mention carry a sci-fi story of
Frank Herbert
-proportions on her shoulders rocking wing-tips and the freshest white shirts. I love me some Gaga, but I have half a mind to smack the entertainment industry hard in the mouth for being so moony-eyed over that New York love child of Madonna and Marilyn Manson when Janelle is leaps and bounds beyond. If we wanted to have a no-holds-barred battle between high-concept pop divas, I know Monae would win, hands down. That being said, her hair, while defying all gravity, has absolutely captured my heart.
I suppose what all of this means is that I'm currently sitting at my kitchen table in the dark, meditating on ways to make my hair grow faster. After dinner tonight, I had a brief modeling session where I showed my roommate Jericha this fantastic vintage dress I picked up mid-July. In talking about how to style it, I went off on a tangent about the plans for my future hair. She told me I was only allowed to dress pin-up if my hair got larger than life. I am inclined to agree. There is nothing that makes me happier than the idea of winged eyeliner, sky-high pumps, and even higher hair.
Except maybe this last picture:
In other, perhaps more important, news, the website for my winter tour is
up and running
. I have been smiling too much and doing impromptu happy dances in the crosswalk on my way to work because of it. It was designed by the badd-ass and talented
William James
, a man I admire for many reasons, the least of which is that his typewriter collection rivals his pearl snap shirt collection. RESPECT!
If you're in the New York area this weekend, you should come out to the inaugural tour date, my show at Sarah Lawrence's Teahaus, sponsored by their Spoken Word Collective. I will have limited edition books and lots of words and hugs and dance magic to share. Word on the street is there's going to be an epic after-party, as it's their first feature of the semester. I am honored, and absolutely beyond excited to rock New York hard.
Details here.
I'd love to see your smiling face in the audience!
Last, and perhaps most importantly, today is my sister's twenty-fifth birthday. Well, more like yesterday at this advanced stage of morning. I am sending her a unicorn for good luck in the coming year, her silver anniversary of living. What a wonderful lady!
Here we are at the Flying Rhino last fall, our favorite restaurant in Worcester. I can't wait resume our tradition of monthly dinners, this time with wine.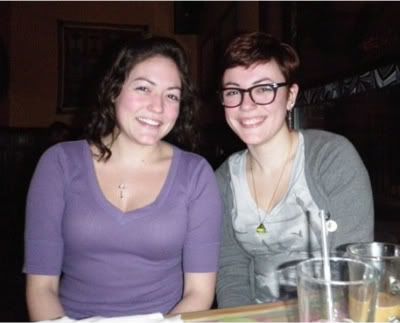 Did I mention it's now nine days until my 21st birthday?! SHA-ZAMMM.
Ok. I really need to go to bed now...