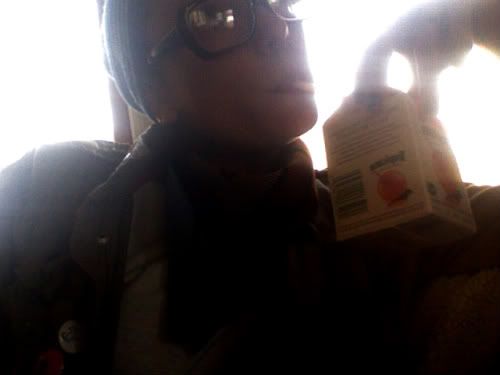 Good morning, sunshines. I got a solid ten hours of sleep last night and I am so ready to kick this day's butt! Too bad there's not much to do. While I wait for my laundry to finish drying, lemme sing another chorus of "Young and Healthy" from
42nd Street
and then I'll tell you the tales of the past few weeks.
The past semester has contained more revision than any other period of my life to date. Til now, and as a writer I'm endlessly ashamed to admit this, revision was more of an afterthought than process. I see now that such an attitude was burying some of my best ideas in a whole lot of junk, and feel my words are better able to breathe now that I tend and prune them properly. It really is a lot like gardening; afterwards, my back tends to hurt and my hands can get ornery, but I always sit down to eat a helluva lot more satisfied than when I let things have their own way. And I'm going to cut that metaphor off right now before it gets away from me.
The preliminary final drafts of both my novel and my poetry manuscript are due next week. I have this. I can manage it. I am endlessly excited for the outcomes, as my projects have taken their time becoming what they are now. I have been peeling back layers for months and letting intuition do the bulk of the real work. It is both rewarding and excruciating to let your instincts write a book for you. If you only write when the mood strikes as it is, waiting for the mood to strike and your instincts to indicate where you must go next is like holding out both hands for lightning strikes. But it is getting there. I am getting there. In a month's time, I will be done with college and gearing up for tour.
This all boggles my mind.
I am still just a little girl playing house. Here, evidence of the playing--an experiment in soup turned genius fall meal. I literally just put things into pans and hoped for the best. Magically, that worked out with such success I had to record it. Jericha usually does the cooking at home, but I bested my roomie at her own game this time. She asked for the recipe, so I thought I'd write it down here for everybody. (And it's vegetarian.)
Accidental Onion Soup
5 medium-sized onions, chopped
1 bottle Opa Opa Light Lager
5 tbsp butter
1 tbsp olive oil
2 1/2 cups water
salt & pepper, to taste
Melt 1 tbsp butter in a large skillet on medium-high heat. Add chopped onions and remaining butter in layers. Drizzle with olive oil, sprinkle with salt. Allow to cook, unstirred for 25 minutes. Do not worry about burning (it won't happen). After 25 minutes, stir occasionally, continuing to cook onions until they are a deep mahogany, 15-20 minutes. Once a rich brown color is achieved, mix onions, beer, and water in a large stock pot. Add salt and pepper to taste. Cook on medium heat for 20-25 minutes. Serve with crusty bread and parmesan cheese on a brisk night when you want hearty comfort food.
Or, you could always stop by Nakedhaus and I'll cook you dinner while reciting for my latest project. No kidding. It happens at least three times a week now.