1. I am all over the place lately. I mean that quite literally. Last Friday (I'm not sure how it's already been a week), Cass and I made a whim-trip to New Hampshire. Though things didn't go according to plan, we spent a fantastic chunk of time in the Red Arrow eating our way through mountains of fried food and gallons of coffee. College life is not really life, if only because Amherst has no authentic 24 hour diners. And because we refused to give up on the adventure in light of a plan-hiccup, we drove to Durham and spent the night in the de Alba family house. We got cranberry waffles out of the deal in the morning, picked up Liza (who is now probably in Cameroon) and then slowly migrated through the slush to Portsmouth and The Friendly Toast.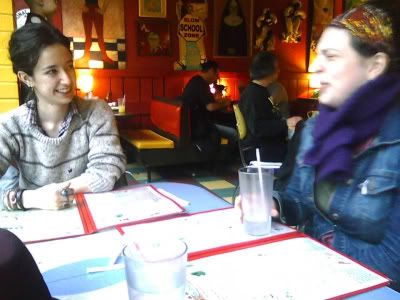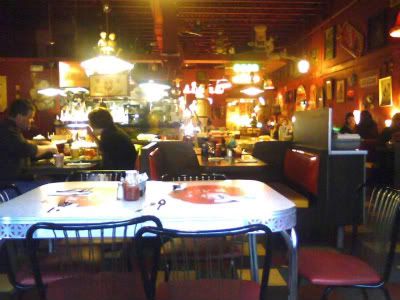 I clearly need to take up residence in this particular pile of kitsch. But not simply for the decor.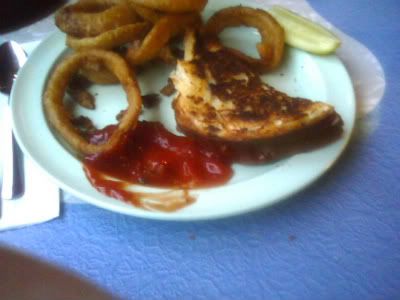 They also make a mean grilled cheese. There was bacon
baked into
that bread. And the onion rings are battered in Guinness. So much delicious.
2. So I'm doing this thing where I'm trying to get another job. I'm not sure how well it's working out. I think I have a fairly serious lead, but I could just be deluding myself. Yesterday I sat in the place for the better part of an afternoon doing work and wishing the manager had been in to interview me. Good thing they have adorable metal pots of tea that stay hot for hours. Good thing they let serious people write retrospective essays on their scarred wooden tables.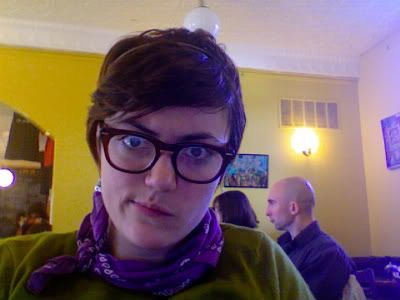 Is this the face of a girl who hates homework? Well. Not exactly.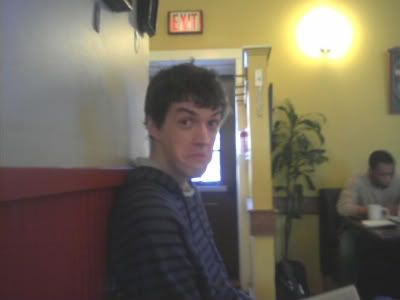 Is this the face of a one Charley Pope trying to distract me from said essay? I think yes. Good thing I've written nearly twenty pages and get to turn the damn thing in today with a binder of other serious writing, most of it on feminism in literature or a man cut in half and also playing golf. Free at last! In four hours! YES!
3. I have to make a dance party megamix today, and the only thing I want to put on it is Amanda Blank. She has been rocking my world lately, even if I have been getting better about listening to rock albums again. I'm still having to ease myself out of the pop zone. I think the main issue is that, to crib a line from a Nicole Terez poem, I am a 140 proof superpony. In non-poet-speak, that means I want to dance. I just can't help it.
Cartoon confetti! High school football-style war paint! Also, she sometimes chills down with these guys:
4. I can't write poems lately. I think it might have something to do with my brain and heart being divided between too many locations. I fall in love with buildings. This is becoming an issue.