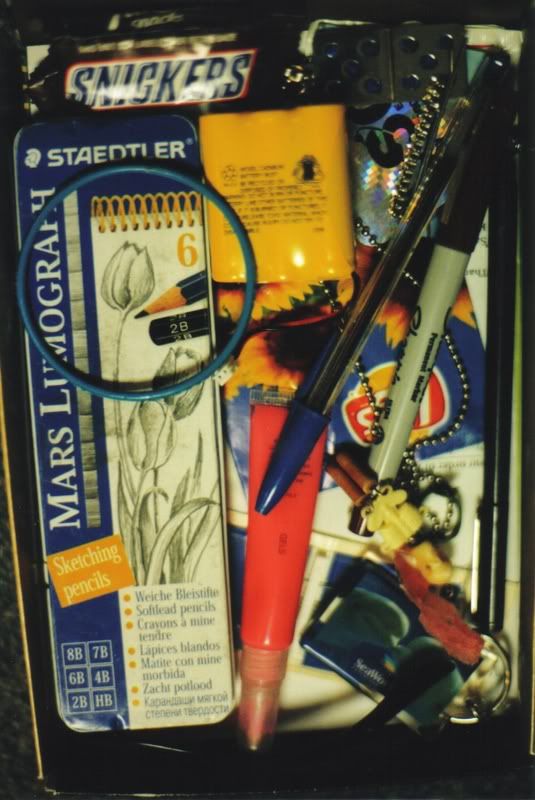 I had a conversation with a far-flung friend recently where we lamented being twenty-somethings. A compelling conversation, I know, but just walk with me here for a minute. After the "I hate my boring job" gripes and the "there's not enough time to make art" train of thought, we came back around to a happy place. "Just sleep less," he said. "You have a voice that needs to be heard." I can't begin to explain how much I need our talk to end that way.
In the past few weeks, my writing here has been overwhelmingly negative. I won't apologize for that so much as offer a bit of background. When I go a long time without a serious outpouring of internal monologue, things can get a bit overwrought. But, in service of being truthful, my life is fantastic right now. My job may be a bit mind-numbing, but it gives me eight hours of auto-pilot where I can be chasing down ideas for the next poem, essay, or painting, so that when i get home after work, I am primed and ready to produce. I have a cozy apartment where there is more than enough space for all of my projects. I have a partner in crime whom I can bounce drafts off of at all hours. My best friend lives a ten minute bus ride away. I paint and write every evening until I fall into bed. It is glorious to be so tired from so many good things.
I'm pretty sure the reason that I worked shitty customer service jobs for so long is the toll it would take on my body. Even if I hated the workplace I was in, it was easy to feel like I'd actually accomplished something at the end of a shift because I could feel the strain in my body. I would be sore from standing at a register, taking Christmas ornaments for eight hours. My feet would ache due to the fact that I'd been running entrees non-stop through dinner service. There were measurable, physical responses to how I'd spent my time in a given day. While the exhaustion was intellectually satisfying, it was also defeating my ability to create. How can a person come home from working a job that requires you to be on your feet and on the move, only to expend more physical and mental energy on what actually matters? When I worked this more physically demanding jobs, I was terrible at staying awake an hour past arriving home for the night, and an hour is not nearly enough time to make real progress on a creative progress.
Trading my standing shifts for a cubicle and endlessly ringing phone has been a rocky transition. I get restless staring at computer screen for eight straight hours. But there are serious benefits to work that does not drain finite energy reserves. I do not have to be creative at work. I have to be personable and repetitive. My time on the phone is essentially scripted. I write emails on auto-pilot. I know what is expected of me, and I accomplish my daily to-do lists. It is a very simple existence. Initially, this black and white environment had me thrashing around like a shark in the shallow. I felt like I couldn't breathe. Did they really think I was enjoying my work? But art crept in around the edges of the day. Writing on my luxurious hour-long lunches (having designated break time is still something I am giddy about); reading submissions for Side B in between answering email inqueries; writing to far-flung friends when the phones are silent. I found so many small moments in my day where it was not only okay to do what I wanted to, but encouraged, that I still consistently feel like I'm getting away with something when I get up to take a stroll around the office.
Since changing workplaces (and moving to Somerville in general), I've had a lot more brain space to accomplish all the things I've planned out for years and never been able to find the structure in my day to facilitate. I have a routine, and it is glorious. I sleep less, and it doesn't affect my job performance; in fact, being tired enforces my auto-pilot at work. The less I think about what is going on, the easier it is to lose myself in the repetition of my job, and then before I know it, it's five o'clock and I'm on my way back up the hill to my apartment. I've put together a manuscript, painted a series to show publicly next month, built a soon-to-launch personal website, started writing non-fiction again. Even though I spend more hours per day at my job, I feel like I have more time to do what I want.
There's an episode of Wilfred where (SPOILER ALERT) everyone's favorite Australian man in a dog suit loses his sense of smell, thus losing his sense of purpose. At my minimum wage jobs, I had lost my sense of smell. (I've not been unemployed since I was 14.) I worked so much, and so consistently, alongside my actual life, that it became easiest to hide behind my exhaustion in lieu of making the strides towards things I actually wanted to achieve. Sure, I finished college a semester early while working full time, but I also didn't try nearly as hard as I could have. I may have muddled through last years tumultuous time in Providence, but I was angry and lonely all the time; I did very little writing and almost no painting, even though I had more free time than I knew what to do with. I panicked when I started my current job because it was so unlike anything I've ever done for work before, but it really has been the best thing for me. My nose is back. I can sniff out opportunities to push myself a little further along like a motherfucker; I am surefooted, burning the midnight oil, experiencing more excitement and success than I knew I was allowed to. The tedium is glorious for all the hours it affords me to do exactly what it is I love, and do it full force.