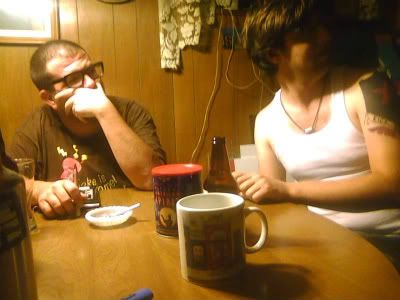 Sammy T and Mike McGee listening intently, probably to that story about Grace Jones and the bicentennial.
My new nickname is Missouri, and my chest lets me breathe easier after a weekend of real talk and quite a bit of honesty. Sam rescued me from the boonies so that I could get my head on straight before leaving for nationals. We did lots of silly activities, including (but not limited to) poetry readings, basement discussions about cream of salad soup, consumption of cheesecake without plates, Buffalo Exchange dressing room fashion shows, and late night long walks for conversations that just can't happen in daylight.
Incidentally, if I ever get knuckle tattoos, my fingers will spell out "REAL TALK". The past week has been stressful--lots of packing, practice, running around like a headless chicken attempting to fly, etc. However, having a place I can run away to in the midst of all of this insanity has been invaluable. Thank you to the Poets' Asylum reading for welcoming me back after several years away, and to all who laughed, cried, and carried on with Sam and I. I am now reminded of how much fun this living thing can be, and that was exactly what I needed.
To awkwardly quote one of my teammates, you are the most of what I know of God, and most of you don't even believe in him.
P.S. Expect to see some updates about tour when I get back from St. Paul. Sam and I have been scheming. There is a press packet and a
Facebook page
now. Get at me if you have an East Coast arts venue that would want to hear from us during January, or a living room or garage or kitchen we could commandeer for an evening. The show we are planning will rock your socks so hard, they'll be laundered, starched and folded by the time you get them back. Just sayin'.