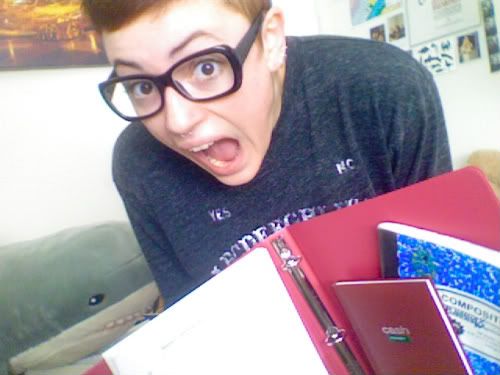 College is drawing to a close more rapidly than I was prepared for, so much so that I now have in my hands the rough draft of my novel with marginalia (read: my wonderful advisor's sometimes-illegible scribblings to push everything a little closer to literary greatness). I purposely took a picture where you could see none of the writing, not even the title, because the only person in the world besides myself who's read the thing in its entirety is the aforementioned advisor. If I am a public poet (which I am,
let's be honest
), then I am the most private of novelists. Since the story was re-imagined into its current incarnation, Nell has been the only one to read it. Before, I'd read bits and pieces to Cassandra, post others to the
tumblr
I made for the project as they moved out of my head and through their drafts. But the past month or so, this shit's been on absolute lockdown. It feels like I'm trying to harness nuclear power or take over the free world, which is silly, considering how small and generally quiet the story is. That pink binder is the last four years of my life. That blows my mind every time I think about it. I've been practically living in my Ouija board t-shirt because I like to put myself in the divination state of mind for all this jazz of writing about hungry ghosts and psychic energy. (I'll post an excerpt once things have moved through two or so more drafts when, perhaps, this will will all make more sense.)
ANYWAY. During our meeting yesterday afternoon, Nell made me cold coffee with cream and Lebanese sugar cubes and asked me about my plans post-December. There is obviously
the tour
to look forward to, but beyond that I've been nursing a bit of ambivalence about a very quiet, secret dream of mine. Lately, I've been telling it to a few just to test the waters, and the response has been puzzled, but generally positive. So I just came right out and told her. When I'm done with college, I want to go to cosmetology school. It may seem backwards to get a bachelor's in literature and creative writing and then jump ship from the academy to attend trade school, but as I told my advisor, I think that any more study of books and the like at this point in time might kill me. And, contrary to the response I imagined, she was overjoyed for me, even launched into a story about how she'd always wanted to be a plumber and often wondered what her life would be like if she was the caretaker of a house's innards. It is beyond comforting when your mentor not only validates your odd needs, but admits to a crop of the same feelings herself.
So it's settled. Finish the book, tour the coast, open the door for the next chapter of my life. One made of the cotton candy hair and silver rollers and diner songs of every middle school sleepover I ever had. I'm beginning to think that
Grease
has had a lot more to do with my development as a human being than anyone could have anticipated. But then, that's another post entirely.