This post is nearly a week over-due, but I am still basking in the afterglow of all the wonderful that took place between December 31st and January 2nd. I was telling my friend Brian about it last night at the Cantab and he literally said, "I don't think I've been more jealous of anyone in my life. I am restraining myself from pushing you off your chair out of spite."
Anyway, let's get into it. New year, new decade, new everything--well, not exactly. I thought I was leaving the trial and tribulation of the 365 project behind with 2009, but I just don't know when to quit and have
signed on for another year
. We'll see if I can make it through this second round.
I rang in the shift of time with Sean and Sophia in Manhattan and Brooklyn, my first New York New Years ever, a criminal situation since the city and I have been loving neighbors to one another my entire life. It was time to break my former tradition of quiet evenings at home with Dick Clark and cheap champagne, so I made it a saucy evening in Clinton Hill at Roger Bonair-Agard's brownstone dancing the night away with the New York all-stars. One of my favorites moments of the night--Roger's mother joining us on the dance floor and looking like she was having the time of her life. Another that I'll never forget or be able to replicate--the midnight champagne toast turning into an "Empire State of Mind" sing-along where absolutely everybody knew the words and absolutely everybody was on their feet having the best possible time.
After the party, Sean, Sophia and I hopped on the subway back to Sophia's apartment and continued our festivities more quietly, sharing a hot pretzel, going for a late night walk in the park, letting our cases of the champagne sillies get the best of us. The next morning after homemade waffles, Sean hopped on the Holtz's grand piano and played an epic medley of his old standards. Naturally, I jumped at the chance to harmonize, being that we don't get our car-radio diva sessions nearly enough.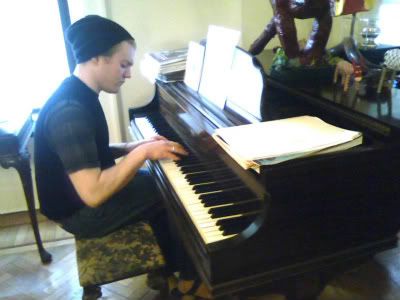 After the private concert, we had a hearty diner meal and a healthy gossip session (as poets tend to do whenever there are several in one place). I could help but smile, no matter where the conversation turned. It's so seldom that we get to spend any substantial amount of time with Sean. New York isn't terribly far from Massachusetts, but it's far enough to keep our lives too separate for my taste.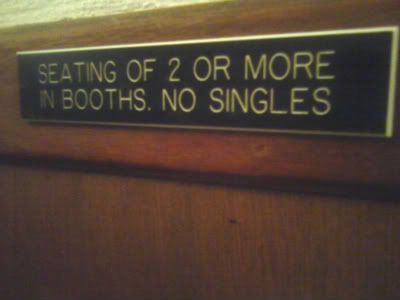 But with not even twenty-four hours-worth of reunion, Sean was Boston-bound to do some more visiting, so Sophia and I took advantage of the unseasonably warm January weather and went for a walk around her neighborhood, eventually stopping in at the Cathedral of St. John the Divine, one of her favorite places, to do some talking and marvel at the architecture.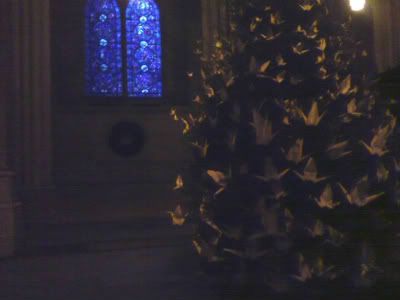 When I have my first Christmas tree, whenever that may be, I want it to be a huge nest of paper cranes like this one. I was so taken by the sight of this one in the church--like a bunch of wishes floated down from wherever just to roost in the tree. I am getting all romantic about then for literally no reason, but I love them. They literally made my day.
Sophia's parents invited me to stay for my very first Shabbat dinner, and after a glass of wine and lots of laughs and stories of the most famous Israeli poet and his attendance at dinner parties, I made my way back to Brooklyn to drop in on Evan and James for a long overdue visit. Also, Theodore was there, adorable as always, and probably twice the size he was when I last saw him in September.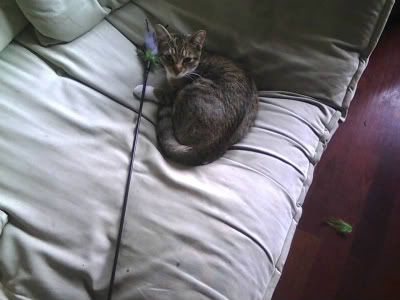 The next morning, the subways back to Manhattan were all wacky with service interrupted on at least four different lines out of Brooklyn for track repairs, but I eventually made it back to New Jersey in one piece in time for a family dinner and some more champagne to finish out the week. If I'm not careful, I'm going to start getting used to the stuff.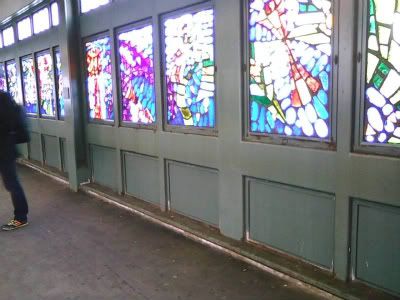 I have my fingers crossed that the sun will keep shining on me as brightly as it's been since the first. I am so grateful to have kicked off this very important year with good friends and a clear head. At lunch with one of my high school English teachers on New Year's Eve, I got a compliment I wouldn't have known how to take a year ago--that I am "empty and marvelous". I am going to keep that in mind from now on, that emptiness isn't negative, just a better state from which to accept all the lemons Life juggles and then drops into your lap when you least expect them. Empty, I can easily be a pitcher of lemonade with a little elbow grease.