I have loved
Zappos
forever, simply because they have a crazy-big selection of footwear paired with free shipping and a fantastic return policy. But when I got this email this morning, my heart melted for them just a little more.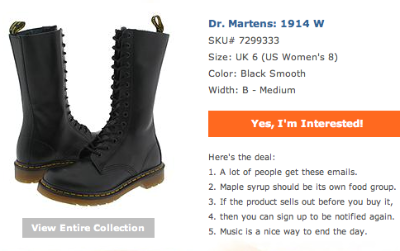 I had asked for a notification when this particular pair of Docs became available in my size again, and under the button to order, there is a list that says, "
Here's the deal: 1. A lot of people get these emails. 2. Maple syrup should be its own food group. 3. If the product sells before you buy it, 4. then you can sign up to be notified again. 5. Music is a nice way to end the day.
" What a way to start my day, smiling like a fool at somebody's whimsical sense of humor.
Also, I'm listening to
Prayers for Atheists
, a Providence-based punk/spoken word outfit helmed by a bunch of
AS 220
superstars (
Jared Paul
and
Alan Hague
among others). They have an
album release show
next Wednesday that I'm pretty sure is going to be off the hook.
Until then, hopefully the weather will allow me to work my butt off and make some serious paper. I just opened a savings account when I was back in Jersey, so most of the money that had been lying around in a secret box on my bookshelf is now safely tucked away where I won't be tempted to spend it. Which just means I have to make further stacks so the box won't feel so empty. Also, those boots won't wait forever.